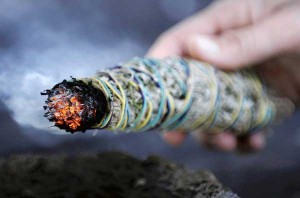 Over the years I have sold many bundles of sage and for the most part my customers knew what it was that they wanted to do with it and how they would and why they would "smudge" their environment. It has come to my attention that there is an interest in this activity. I will give some information and I am not professing to say these are the total of reasons and/ or activities of this technique. It is just a small taste of a ritual that is many centuries old and used in many different ways with different herbs.
At Woodstock, we have provided Sage for most of our customers Smudging techniques. Smudging is the name given to the cleansing technique from Native American. This tradition of burning herbs for emotional, psychical and spiritual cleansing is practiced among many religious, healing and spiritual traditions. It is a ceremonial way to cleanse a person, place or object of negative energies.
Smudging can be helpful for when you feel depressed, angry, and/or restful, You can smudge your home, work space or crystals to remove negative energy.
In blog Smudging blog 2 I will talk about how to perform a smudging technique